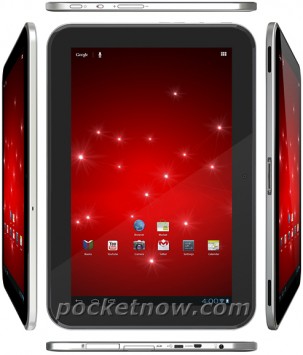 A new day, new rumor, and a new leak. I am glad it's not a leak about the SGSIII, though this time it looks like it's a rumored leak of Google's Nexus tablet, rumored to have gone under production recently.
Last time I heard the Nexus tablet was going to be around 7″, but the above image clearly indicates that it is somewhere around 10″. Looking at the Homescreen, I think it is photoshopped and not really a running Android device. You can also see the old Android Market and not the Play store logo. The device does look nicely polished and shows with numerous ports, including a USB port. There was no info about the specs or price with this leak, but rumors are going around that this is going to be a cheap tablet manufactured by ASUS.
A new update is also stating that this leaked image above looks similar to the 7.7″ Toshiba prototype which they had showcased at CES this year, but we are not sure, so stay tuned till we confirm this tablet.