The different Samsung variants for the recently launched Galaxy S21 are not all the same. If the price and dimensions don't convince you, the specifications probably will. And among the list of different standards and numbers mentioned, there is one curious little thing that was not discovered on launch day. While the cheaper Galaxy S21 and S21+ models support slow-motion video at 960 frames per second (in 0.5s bursts), the supposedly high-end Galaxy S21 Ultra with its improved cameras Does Not.
If this sounds familiar, it's because last year's S20/S20 Ultra had a similar configuration. It's not easy if you don't know how it all works, but hidden in a footnote to the specs, Samsung points out the difference.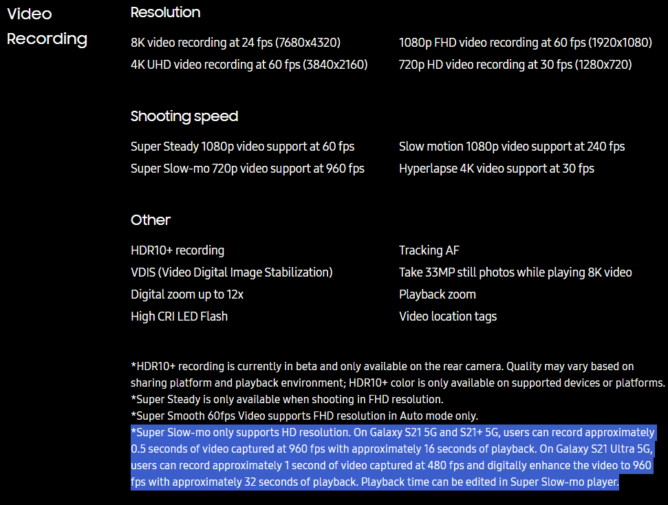 On the Galaxy S21 5G and S21+ 5G, users can record about 0.5 seconds of video at 960 frames per second and play it back for about 16 seconds. On the Galaxy S21 Ultra 5G, users can record about 1 second of video at 480 frames per second and digitally scale it up to 960 frames per second and then play it back for about 32 seconds.
Simply put, this means the smaller S21 can record 960 frames per second, rather than relying on digital interpolation to create images between the 480 frames per second it can record, as with the S21 Ultra. In some cases, the difference probably won't be noticeable, but it gives an advantage to small models when it comes to slow-motion video.
The distinction is a curious one. As Android Authority notes, there's no difference between the phones at the chipset level, and the Snapdragon 888 chipset these phones share (in the US) should offer 960fps support at the hardware level. One possible explanation is the lack of cache for the S21 Ultra's camera or the difference in the sensor used for video recording.
If you plan to use this feature, you should keep this distinction in mind before making a purchase decision. While the 960 fps with digital image enhancement might be enough, slo-mo enthusiasts might be better served with a cheaper model.
Although we are not sure if this same distinction exists with the Exynos variants that exist in India. We shall update this article as soon as we have more information regarding this.