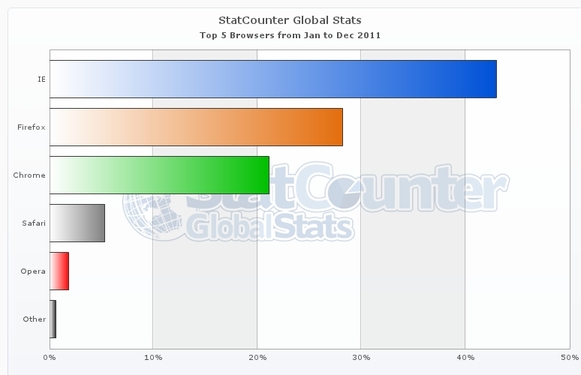 Microsoft was happy to announce the rising market share of the the Internet Explorer 9 after IE8. Looking at the statistics, IE9's share is up to over 25 percent working on Windows 7. This is an unsurprising stat but when it comes to all other desktop platforms all over IE still makes it with browser share of 52 percent from Net Applications and 39 percent from StatCounter but taking its overall turnaround into account IE have declined all year long.
With the introduction of Google Chrome earlier in 2008 there has been a battle war for survival between the browsers. Chrome is experiencing a growth rate up to 84 percent year-after-year far beyond any browser in the market. It now lands at 27 percent according to StatCounter or 22 percent by Net Applications.
On the other hand, Firefox has been experiencing a strong competition for its survival. StatCounter shows Chrome grasping the 2nd place, ahead of Firefox's 25 percent share whereas Net Applications shows Firefox hanging on over Chrome at 22 percent.
Other editions also slid last month: IE7 dropped to 4.8% and IE6, which Microsoft has been trying to euthanize since 2009, fell to 7.3%.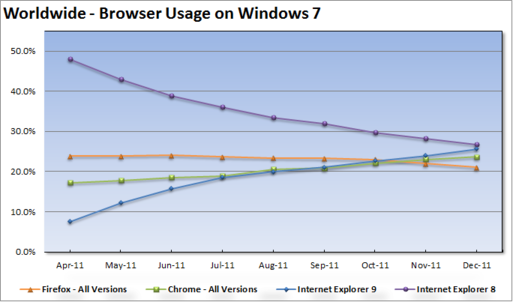 With such competition with lots of dynamics, 2012 will be certainly more exciting – but, we do hope Microsoft catches up and put a full stop to it's decline.